The Democratic People's Republic of Korea
While the world continues to take baby steps towards forming a more peaceful and loving community, the Democratic People's Republic of Korea is still following brutal dictatorship. It is heart wrenching to realise that some of this world's population is being treated in sub-human ways and that a few men's ideology is destroying a country and keeping it from reaching its potential and be a part of world culture.
Crazy facts to know about North Korea :
Yeah, use if marijuana is not considered illegal in the otherwise strict country.
What's so funny in that? North Korea hands out ballots with only one option on them, so votes swing, you guessed it, 100% for the leader.
If one person violates a law or is sent to prison camp, it affects their whole family. Grandparents, parents, and children of the violator are sent to work with them.
Kim Il-sung will always be considered North Korea's eternal leader, even though his heirs have taken the reigns.
As a way to intimidate South Korea and put on a front, Kijong-dong (Peace Village) was built after the Korean War.
Two of which are only available on weekends, while the other is broadcast in the evenings. Because of this, South Korean soap operas are among the most popular items smuggled in.
The country boasts its literacy rate is on par with the U.S.
A growing number of prisoners continue to fill the estimated 16 work camps
North Korea bases its calendar on Kim Il-Sung's date of birth: 15 April 1912. Move over Jesus. Based on Kim Jong-iI's official biography, he was born on Korea's most sacred mountain, Mt. Baekdu. At the moment of his birth, a new star formed and illuminated the sky — the seasons suddenly changed from winter to spring and a double rainbow appeared. Beautiful but Soviet records paint a far more boring picture. Kim Jong-iI seems to have been born in 1941, in the Siberian village of Vyatskoye.
The Rungnado May Day stadium has more than 150,000 seats and houses the extravagant Mass Games.
These are possible hair cuts for a man in North Korea.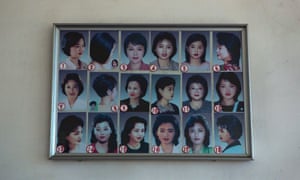 The only approved hair cuts for women.
Kim Jong-Un attended the International School of Bern under the fake name "Pak Un". Kim's identity at the school was hidden and he was enrolled as a North Korean embassy employee's son.
Source : Internet